YS31-C Series steel backing finishing hydraulic press
Product Category: Steel Back Finishing Hydraulic Press Series
---
1、本系列机采用三梁四柱结构、油箱上置式,工作台四面留空,放便上机械手。

2、采用伺服控制系统的流量压力闭环控制技术,主缸压力重复精度达到±3%,位置精度±0.03mm,节能效果明显可达30%至50%,相比普通电机燥音更静音。

3、人机界面,压力、位置、速度、保压时间等工艺参数可按实际工艺在屏上灵活调节。

4、液压控制技术采用大通径插装阀,有效降低油的流动阻力,实现降低液压系统发热量保护密封圈及液压元件。配备油冷机与传统水冷相比,冷却效果及佳,可确保自动生产线长时间稳定工作。

5、针对钢背行业的多种组合控制选择方式,适用于压斜边、冲孔、拔钉、精修各种工艺要求。
1、本系列机采用三梁四柱结构、油箱上置式,工作台四面留空,放便上机械手。

2、采用伺服控制系统的流量压力闭环控制技术,主缸压力重复精度达到±3%,位置精度±0.03mm,节能效果明显可达30%至50%,相比普通电机燥音更静音。

3、人机界面,压力、位置、速度、保压时间等工艺参数可按实际工艺在屏上灵活调节。

4、液压控制技术采用大通径插装阀,有效降低油的流动阻力,实现降低液压系统发热量保护密封圈及液压元件。配备油冷机与传统水冷相比,冷却效果及佳,可确保自动生产线长时间稳定工作。

5、针对钢背行业的多种组合控制选择方式,适用于压斜边、冲孔、拔钉、精修各种工艺要求。
This series adopts the structure of three eams and four columns. and the para lelism between the workbenches is higher so it is especialy suitabie forpresing and molding the products with high precision reuirement, for example. the molding of products in industries such as haraware. gold omamentsglasses, grinding wheels, electrical appliances, embossing, modelduplication, metal plates, watchbands (shell and bottom),plastics and rubbers, etc.According to the customers reuirements, we can also produce a eries of hydraulic presses with pressure-maintaining and discharging devices, which canbe used tor heating, shaping and automatic stripping of processed proucts in the industries such as grinding wheels, watchcases, meta plates. plastics andrubbers, etc. Besides, we can produce the automatic vulcanizers with primary and secondary air release devices.
---
PRODUCT DESCRIPTION
1. This series machine adopts three-beam and four-column structure, oil tank top-mounted type, and the table is left empty on all sides, so that it is convenient
to match with the manipulator.
2. With servo control system flow and pressure closed-loop control technology, the main cylinder pressure repetition accuracy reaches ±3%, position accuracy
±0.03mm, energy-saving effect can reach 30% to 50%, compared with the ordinary motor dry noise more quiet.
3. HMI, pressure, position, speed, holding time and other process parameters can be flexibly adjusted on the screen according to the actual process.
4. Hydraulic control technology adopts large diameter cartridge valve to effectively reduce the flow resistance of oil and achieve low heat generation in the
hydraulic system to protect the seals and hydraulic components. Equipped with oil cooler compared with the traditional water cooling, cooling effect and
better, can ensure the stable work of automatic production line for a long time.
5. A variety of combination control options for the steel backing industry, suitable for pressing beveled edge, punching, nail pulling, finishing various process
requirements.
6. Mainly used for metal material forming, cutting and stamping, extrusion forming, stamping, and shallow stretching. Pressing and forming processes such as
brake steel back accessories, casters, household appliances, kitchen utensils, etc.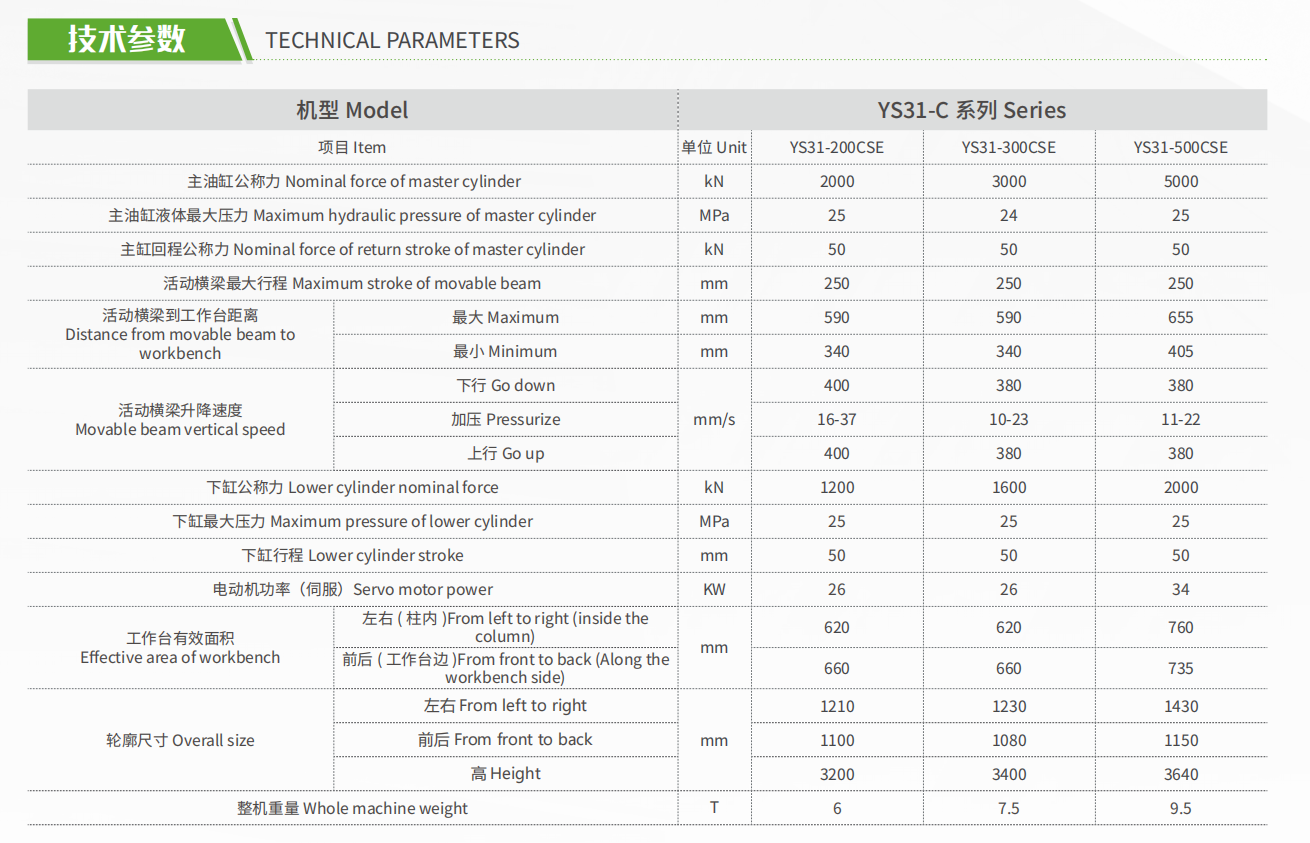 YS31-C Series steel backing finishing hydraulic press
---